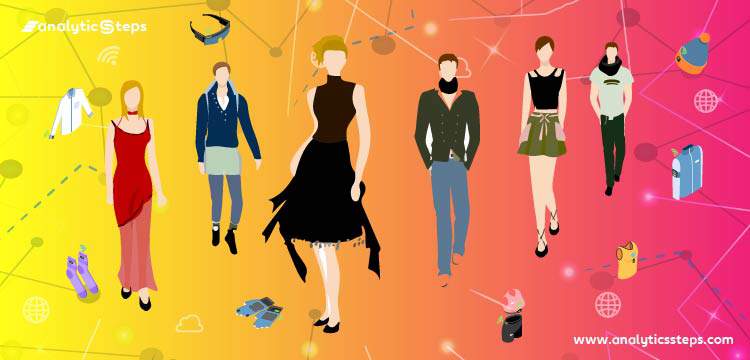 Fashion. A sector dominated by style, sophistication, glamour, and perfection. The fashion industry is one sphere that is massively driven by the latest trends surrounding it. Recently one aspect which has been emerging within these trends is technology.
As the world slowly shifts from brick and mortar retail mode of shopping to e-commerce platforms, the hold of technology in the sector escalates. As technologies like Artificial Intelligence, Augmented Reality, and Virtual Reality expand their roots revolutionize the operations of various businesses, the retail sector has also likewise expanded with retailers reaching forward to encompass the new landscape developed by these technologies.
Now, where does IoT step in?
One such fascinating opportunity that has waltzed up the ramp of the fashion industry is IoT aka Internet of Things. IoT is a technology that automates our world by allowing us to interact and connect with everyday objects like customers, manufacturers, companies, stores, etc by employing the internet.
Now you may wonder how exactly this technology is impacting the fashion industry? The application of IoT is no longer limited to cars, wearables, or smart homes but has extended its roots beyond what we could have anticipated. Did you know that our fantasy of lost clothes letting us know where they are located could become a reality? All thanks to IoT!
How is IoT influencing Fashion? 
Presently, IoT in fashion isn't just about the application of wearables such as Google Glasses or smartwatches, it also involves the stitching of invisible sensors onto cloth fabrics or enabling interconnected apparels to perform various functions such as notifying the user about the product's materials, assisting in detecting the product if its lost or even in facilitating style tips. We've reached the stage where technology and fashion can be combined to develop clothing that can be used to measure heart rate amidst workouts, where baby outfits can assess a baby's sleep pattern or even his/her's vital functions or where outfits can preserve our body skin from any pollution or decay.
The Internet of Things basically streamlines the tasks for its users. It helps in cutting down the loss and in enabling more efficient management of inventory with the help of its tracking feature. From keeping track of any cases of fraud by barcodes and RFID tags, developing customer loyalty, and item popularity record to guaranteeing that one remains aware of present trends surrounding the customers.
Some instances of firms employing IoT within the fashion industry are Coded Couture by IVYREVEL, which is a Swedish-based brand that partnered with Google to design a Coded Couture app. This app is responsible for tracking your activities in order to design a dress. In accordance with where you go, be it any popular night club or an acclaimed restaurant, the app will suggest adding elements like diamonds or a traditional style or a particular color, etc.
Another example is of FITBIT which employs Google's new Cloud Healthcare API to combine its data into healthcare applications, enabling users to have a better comprehension of their own health while facilitating doctors with valuable insights. Fitbit also cooperates with luxury fashion houses such as Tory Burch (Fashion Meets Fitness).
Yet another old example was that of Amazon's Echo Look. This was a hands-free camera and style assistant with Alexa that offers a style check for obtaining a second opinion on the user's outfit. The platform's app allowed the user to perceive themselves from each angle through the app and also permitted the user to view videos and photos of outfits, select favorites, organize their looks into Collections, and share with their friends, while also helping them discover fresh styles and brands and note the colors they wear the most. The camera was discontinued in 2020.
Role of IoT in the Fashion Industry
Health benefits
This is one of the first and foremost factors that IoT is playing a leading role in. Smart clothing provides massive scope for assessing and measuring a person's health while he/she wears these items. From accessories like smartwatches that can calculate heart rate and diabetes, sense a seizure, assist with posture, and perform a variety of useful functions, to smart clothes, which include ECG as well as a sensor to detect heart rate, that sends information and data to smartphones by deploying an app which helps the user in analyzing their health and in seeking any medical advice if required.
For people working in high-risk occupations like firefighters, police, military, this becomes highly useful as the heart rate and other useful functions of the person can be detected while they are in high stress and dangerous situations.
An example of smart clothes would be Tommy Hilfiger's, Tommy Jeans Xplore fashion line which features hoodies, sweatshirts, jackets, jeans, caps, and bags. Each item has been placed with a special chip which can measure how often and also where the product is worn.
Revolutionizing Retail Outlets
While this aspect has not fully developed as of yet, it holds a promising outlook. With smart clothes slowly emerging as the norm, the core of fashion retail will become customization, making stores bought and ready-to-wear outfits, a thing of the past. The size of Brick-and-mortar retail stores will fall, making their first and foremost task to showcase the latest patterns and styles that will be tailor-made for the customer.
Recommended blog – AI in retail
The technology promises to progress to a point where the wearer can alter any aspect of the outfits they are purchasing. Stores would overtime install smart mirrors, which will allow the customers to try out varied pieces of clothing in real-time and also make virtual changes in the case of the length of the clothes, the size, design, patterns, and color before they place their customized smart clothes order. The technology also assists the customers in developing tailor-made pieces that are one of a kind and which stand out.
Yet another aspect that gives an edge to smart clothing is the manufacturing speed. The duration between trying out the clothes, personalizing the different pieces, tailoring them, and transferring them to the customer can be cut down to hours as technology develops.
Never Lose a Clothing Item Again!
---
---
We've all faced times where we've lost or mislaid a dress, a sock, or any other clothing item, which we may or may not be able to find. However, IoT holds the potential to make this problem history. Various designers are now exploring the idea of connecting IoT with clothing to develop smart clothing items that can provide the user with the item's location in case it gets misplaced. The sensors installed in the user's clothing can send the user a signal on their phone letting them know the exact location of the clothing article.
This feature in turn also becomes useful for manufacturers and suppliers who can keep track of their items and be aware of information such as who buys them, how often they are used etc.
Convenience
Selecting the right clothes is hardly easy, especially with multiple aspects to be considered such as the size of the outfit or its brand or the materials used. Smart shopping through IoT makes this process more transparent and convenient. Fashion outlets are now revolutionizing the way users shop by providing them access to data regarding their clothing like never before.
IoT-powered packaging is emerging as the rage with this package informing the customer of the details of where the product is from and the materials it was designed with.
IoT powered items also allow the consumer to save their time on payments. The customer can adorn what they want, for instance, a scarf and walk out of the store through a sensor door that connects with the scarf and initiate contactless payment.
Applying emotions
Fashion actually plays an interesting role in expressing a person's emotions with the magic of IoT. From managing body temperature to identifying and relaxing stress through clothing items, emotions are fully integrated into the fashion industry.
Having an idea regarding the emotions that a consumer associates with a brand is what plays a role in enhancing one's interaction with them and in turn, their sales outcome as well.
For example, consider the emotions that the audience experiences when they look at a picture of a Titan's watch. Some may associate it with a mark of loyalty, some as a family tradition and some may see it as family pride. If among these emotions pride is a common phenomenon, how can it be adopted for being executed in each consumer journey stage? Detecting a particular emotion becomes the bridge between one's brand and their customers.
Perks for Sports
With Sports apparel playing a significant role in the fashion industry, there's a great deal that sports brands can gain through technological solutions. With there being a considerable upheaval in football data analytics, these IoT solutions offer highly beneficial information regarding the fitness of players amidst a match.  This in turn facilitates coaches with insight regarding the work rate of their players and also aids them in deciding if they need to be replaced or not.
Another item that can prove to be beneficial and offer useful data through IoT in the world of sports fashion is Football boots. Through embedded sensors that calculate the step of each player, coaches are also provided insights regarding the angle and intensity of impact with the ball.
Color and Pattern Altering Fabrics
Amazingly, color and pattern altering fabrics are now no longer a far-fetched fantasy! Lauren Bowker, a fashion designer at The Unseen has developed and created a fabric that is able to alter colors and patterns by employing a sensor system.
Recommended blog – AI in fashion
The designer has also designed a dress that can comprehend the emotions of the person who wore it. The dress can detect human magnetism by detecting brainwaves and altering itself in accordance with those brainwaves.